For information on how to report for your state, visit the CLE Requirements page. Every attorney that completes a course will receive a certificate of completion.  The certificate will contain the information needed to report the course to a state(s) accrediting body.
Every certificate contains the following:
Course title.

Time and date of completion.

Credit amount.

State credits apply to.

Lawline.com information.

Space for bar number and signature.

Course ID (Depending upon the state).
Some certificates will contain a course ID number.  This is necessary for certain states that require a course ID number in order to report. Course ID numbers for reporting can also now be found on your My Certificates page.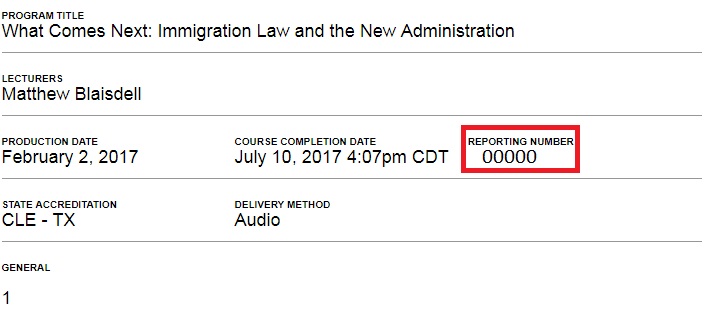 States with course ID numbers:
Delaware
Florida
Idaho
Indiana
Iowa
Kansas
Kentucky
Louisiana
Maine
Minnesota 
Montana
Nebraska
Nevada
North Carolina
Ohio
Oregon
South Carolina
Texas
Virginia
Washington
 Need help or more information? Please contact our customer support team at support@lawline.com or via telephone at 877-518-0660.