To access your courses, log in to your account at lawline.com/login. Navigate to the top right corner and click the My Learning icon.

You can also get to My Learning by clicking on the Me menu in the top right corner of your dashboard and then selecting the My Learning icon option that appears on the drop-down as shown below.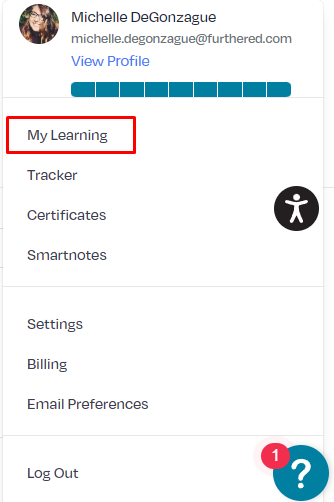 You will find all courses that have been added to your account here. Check out what you've started, what you've finished, and what's still waiting for you to begin watching. There is also a "Sort By" icon that allows you to sort your courses by Recent Activity, Date Added to Account, Title A-Z, and Production Date (Newest).

Additionally, you can filter your courses further by clicking on the "Filter By" icon that allows you to select either Course, Learning Path, Virtual Event, or All as seen below.

Now that you are in My Learning, you can begin watching your courses by clicking the 'Start Course' button directly under the program.
Still have questions? Give us a call at (877) 518-0660 or email support@lawline.com.